One of the best things about Gmail is the conversation feature and send and archive emails with one click. It helps to reduce clutter, especially for busy people who use e-mail much in their business transactions. Achieving a clutter-free Inbox is a daily struggle for many, and one of the best ways to keep your emails in your inbox without confusing the mix is archiving. So, "archiving" is when you don't need the emails anymore but you don't want to delete it, which means send it to the archive folder.
To archive an email click on the first icon in the toolbar, like in the image below.

Or you can hower over the mail in the inbox folder and select the Archive icon/button. You  can see it in the next image:

Although archiving in Gmail with the Archive button is easy, it can be a bit of a hassle if you need to do all of your archiving all at once. But did you know that you can archive emails by clicking "Submit"? This will help you clean your inbox as you use it, resulting in less clutter and a better-organized mailbox in the future.
Send and archive emails at the same time
First, you must enable this option in Settings. To set this up, you must enable the Send & Archive button in your Settings panel. Click on the Gear button on the top right and go to Settings.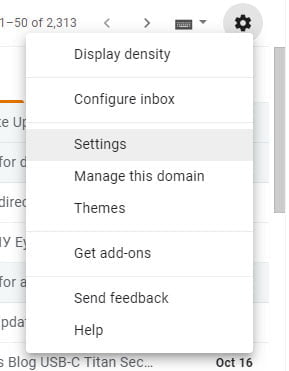 Next, scroll down until you reach the Send & Archive category. Select the Show "Send & Archive" button in replay.

Make sure you save your settings. Scroll down and click the "Save changes" button.
Now when you reply to your emails, you'll see a "Send + Archive (icon)" button next to the "Submit" button. If you want to archive your e-mail conversation, you can choose the Send + Archive (icon) button instead of the normal Send button.

If you have accidentally archived the wrong e-mail thread, you can click the " Undo" link at the bottom left of the Inbox right after you send the message.
Wrap up
Alternatively, you can move the thread back to the Inbox. Switch to Sent Messages, select the desired conversation and click "Move to Inbox" at the top. Also when you search for emails, Gmail is going to search through the archive folder.
If you're concerned about not receiving future emails from the archived conversation, do not worry. Archiving your emails does not affect future incoming messages in an archived conversation. New messages in an archived conversation continue to appear in your Inbox.
To learn how to Archive emails on Android or on iPhone and IPad click here.