All companies want to cover their day-to-day activities in office administration with a single set of office tools. Being able to cover all of these are the main benefits of using Google Apps (G Suit). With G Suite, Google provides companies with a cloud solution for their daily work. It has many applications that simply work together to cover all of the day-to-day activities in office administration. The billing of services is user-based on a subscription model, from basic functions to more additional features.
Google G Suite components include communications apps like Gmail or Google Hangouts, appointment management apps like Google Calendar, collaboration and cloud storage apps like Google Drive or Google Sites, and apps for Office use like Google Sheets, Google Docs or Google Slides.
And the best benefit of using Google apps (G Suit) is that companies do not need their own infrastructure to deploy the apps. The apps can be used via an online connection from any device and location.
The G Suite apps and their function
G Suite includes Google Docs, Sheets, Slides and Forms, Gmail, Google Calendar, Drive, Hangouts, Google+, Sites, and Google Apps Vault apps. Below is a brief summary of the key features of these apps.

Gmail is a web-based email client to send and receive e-mails with a custom domain name. Gmail shares space with Google Drive and based on that you can check how much is used in Google Drive. You can check your Gmail, Drive, and Photos storage usage on the following link: https://drive.google.com/u/0/settings/storage.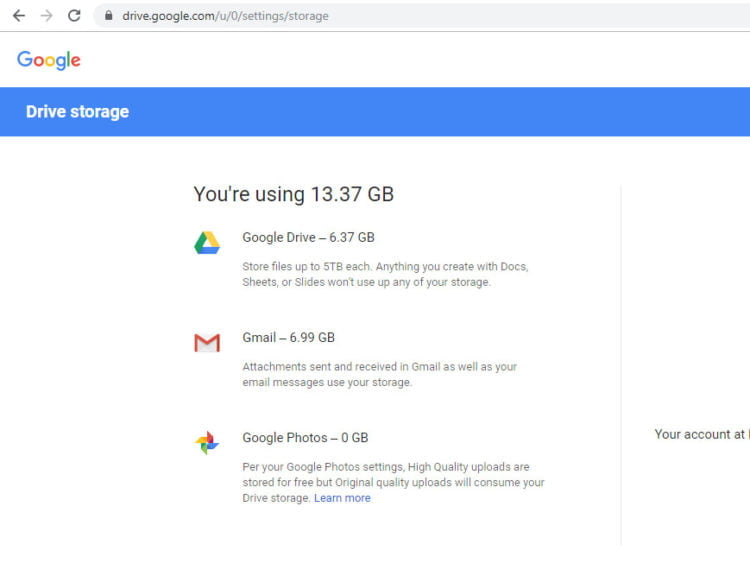 Google Drive is a file storage app that helps you manage your files online and also can be used as a synchronization service. The app provides a central location for uploading, creating, editing, saving, and sharing files. With the help of a desktop application, files between the cloud and the local computer can be automatically synchronized.
Note: Google apps native file type does not count towards your storage limit.
Google Calendar is an online tool for managing appointments and resources. Yes, you can use it to manage and book a conference room or a projector. It also allows team sharing and, thanks to compatibility with other desktop or mobile apps, can be used with other calendars.
The Google Docs, Sheets, Slides, and Forms apps provide applications for creating text documents, spreadsheets, and presentations. They all work online within a web browser and can be access from any platform that has an internet connection. Documents, sheets, and slides can be shared in real-time and worked together as a team. In addition, an offline mode is available, which allows the processing of documents without an Internet connection. For this to work, you need a Google Chrome browser and Install and turn on Google Docs Offline Chrome extension.
Google Sites is a tool for creating web pages without specific web design skills. Websites can be created and published using a graphic user interface. Google Sites can be used for public websites as well as for intranet pages and project pages in which you can specify who has access.
Google Hangouts is a tool for voice, video, and text chat, conference calls and sharing screens. During the online sessions, you can work together on a shared screen.
Google Apps Vault is a tool for storing, archiving and finding documents. It provides a kind of legally secure vault for emails, chats or files that can hold information for several years.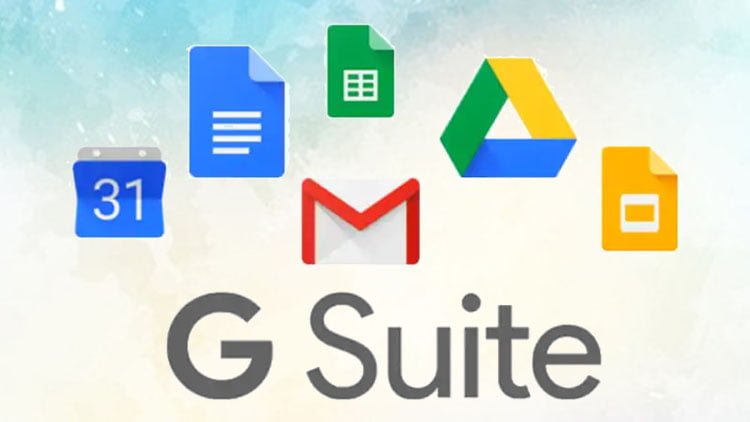 Benefits of using Google Apps – G Suite
Using G Suite Google Apps brings many benefits to businesses. You get a complete set of applications for daily work without having to install and operate your own hardware or software. There are no costs for your own data center, licenses, and hardware.
The apps enable efficient collaboration in internal or external teams and provide powerful applications for text, video or voice communication. Thanks to user-based billing in the subscription model, customers only pay for services they actually need. If the customer's requirements change or new users join, Google G Suite is flexibly expandable. The extended services are available immediately after commissioning.
Comparison between Google G Suite and Microsoft Office 365
Google G Suite is a cloud-based online collaboration suite that competes with Microsoft Office 365 in this area. Both products offer similar applications, services, billing models and pricing. Microsoft Office 365 and Google G Suite overlap in many key features. Both provide tools for communicating, creating office documents, working together in a team, and storing and retaining data.
Microsoft Office 365 is based on Microsoft Office with online applications such as Outlook, Word, Excel or Powerpoint. They all have identical designs and user interfaces compared to offline applications. Even existing Active Directories are easier to connect to the cloud solution. However, Google G Suite apps also have a high degree of compatibility with Microsoft's files, services, and applications. You can now edit the files directly without converting it into the native google apps format. Companies and their employees who have used Microsoft Office products tend to find it easier to migrate to a cloud solution, such as Office 365. As far as collaboration within and outside the company is concerned, many people find the Google G Suite apps easy to take advantage of.
Sharing files and collaboration is much easier in G Suit. Google uses a technique to enable multiple people to work on the same document at the same time and get the changes in realtime, you don't need to save, send and track versions of the document.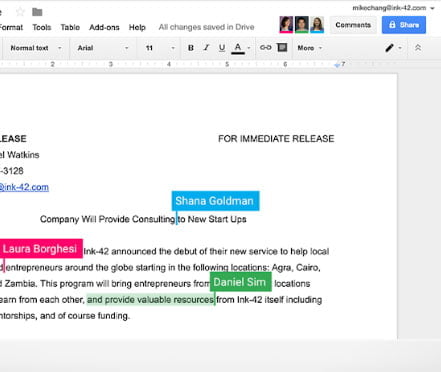 Google G Suite and security
Google G Suite's customer data is stored by Google in its own data centers. According to Google, only selected employees have access to the data. The apps are certified to various privacy and security standards. In addition, Google participates in the Privacy Shield Agreement.
In order for cloud services to comply with European data protection requirements, EU customers can use Google to finalize their own EU model contract clauses and data processing add-ons. Applications like Gmail have built-in spam blockers and virus scanners. Google Drive uploaded data is encrypted. Unlike Google's free app offerings, customers' data is not scanned and evaluated for promotional purposes.